To contain global warming, a paradigm shift in the energy system is necessary. To this end, the European Union has set itself the goal of becoming "climate neutral" by 2050. Italy and Spain need to speed up on decarbonization to prevent the risk of significant delays in meeting the 2050 decarbonization targets.
This topic gave way to a Study prepared in collaboration with Enel Foundation, entitled "Net Zero E-conomy 2050. Decarbonization roadmaps for Europe: focus on Italy and Spain", presented during the 48th Forum by The European House - Ambrosetti, in Cernobbio.
From our analysis, we have learned that Italy is 5th for the gas intensity of GDP index and 2nd for natural gas dependence index among EU countries. Nevertheless, the decarbonization process is a key tool to achieving energy independence. In fact, over the past 10 years, the reduction in energy dependence in Italy and Spain (-9.1 percentage points in both countries) has been accompanied by an increase in electrification rates (+1.5 p.p. in Italy and +3.3 p.p. in Spain) and RES deployment (+2 p.p. in Italy and +4.7 p.p. in Spain) in final energy consumption.
A more robust acceleration of decarbonization would require less resources than a weaker one. The "Net Zero" scenarios envisage 3,351 billion Euros and 2,215 billion Euros of investments in Italy and Spain respectively over the 2021-2050 period, 548 and 546 less than the investments needed by the "Low Ambition" scenarios in the two countries. Moreover, these scenarios are associated with relevant social, economic, environmental and energy security benefits, in terms of value added, employment, reduction of emissions, fossil fuels expenditures and energy independence, as further detailed in the Study.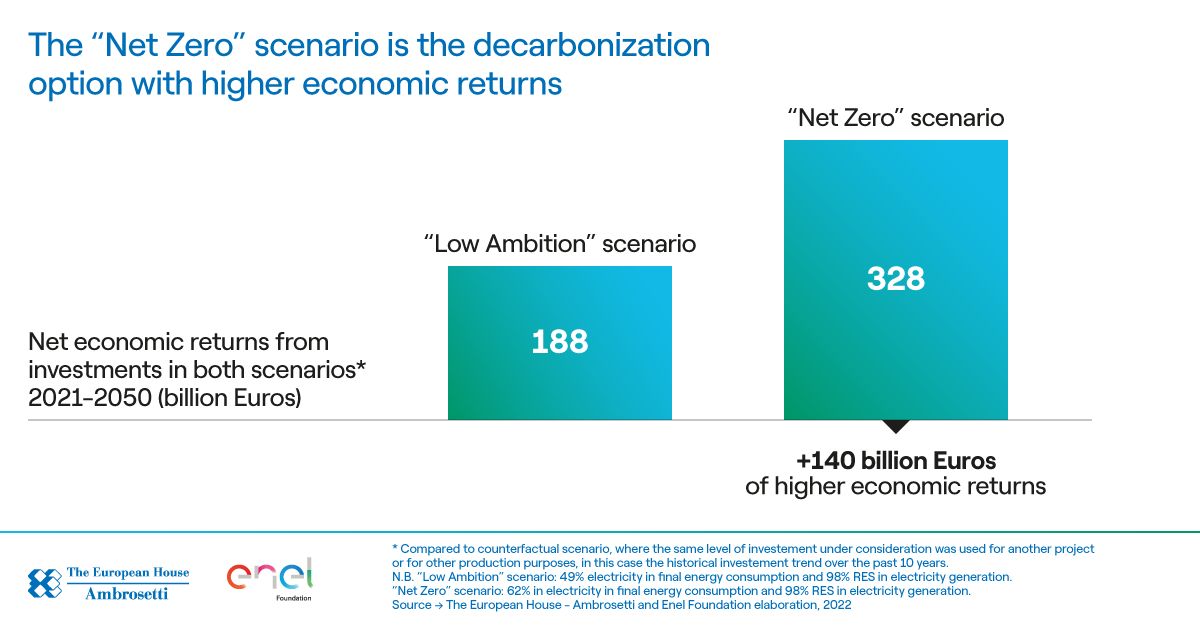 To accelerate the pathway towards a "Net Zero" economy, two prerequisites and five policy proposals have been identified.
Prerequisite 1: ensuring stability, transparency and consistency of European, national and local energy policies and measures
Prerequisite 2: supporting industrial production in scaling up existing green technologies, developing new ones, and stopping fossil fuel subsidies
CROSS-SECTORAL POLICY PROPOSAL
Guaranteeing a stronger form of cooperation and a greater degree of harmonization in the governance of the energy transition at European level, by reviewing the European Commission's current enforcement mechanisms towards Member States regarding decarbonization targets, facilitating the implementation of the "REPowerEU" guidelines.
SECTORIAL POLICY PROPOSALS
POWER SECTOR Simplifying authorization procedures for RES plants, facilitating intervention on energy Infrastructures and promoting demand side management as well as deployment of storage facilities and flexibility solutions.
TRANSPORT Simplifying charging infrastructure installation procedures, strengthening collaboration between all the e-mobility actors, enabling interoperability, optimizing grid connections time-to-market, and promoting electric public urban mobility
INDUSTRY Leveraging on legal frameworks to support the technological shift of industry towards greener technologies, creating Tech Transfer Labs for direct and indirect electrification solutions, and favoring demand-response
BUILDINGS Defining the phase out of fossil fuel boilers - through a just, stable and transparent framework with regards to heat pumps - and creating a one-stop-shop to support the renovation of buildings
Download the Study "Net Zero E-conomy 2050. Decarbonization roadmaps for Europe: focus on Italy and Spain" (in English)
Executive Summary (in Italian)