Our Mission
Involving the various players of the Specialized Retail sector, the key representatives of the benchmark countries, and the European institutions in a process of constructive, on-going discussion, with the goal of offering action proposals to Italy's Government and the nation's economy.
3rd edition
The current edition was launched in February 2023 and includes a number of meetings and focus groups addressed to the Community's members, who will have the opportunity to meet institutional representatives and other companies to develop contents, mapping the value chain, and increase their network with the common goal of boosting specialised retail in Italy.
The 3rd edition's final Forum will be held on November 28, 2023, in Rome. During the event, we will discuss the sustainable transition of Specialized Retail, the key role of people and talents for the competitiveness of the sector and how to make it more attractive and inclusive, the "identikit" of the Specialized Retail of tomorrow and the role of finance to guide its future evolution.
Documents from the 3rd Forum


Specialized Retail in Italy
The economic and social impact of the Specialized Retail sector on the country is much greater than what is perceived by the public and institutions, and it represents a vital asset for the nation's competitiveness.

450,6
billion euros in revenues

100,9
billion euros in value added

9,7
billion euros in investment
Despite these figures, the Specialized Retail is not recognized as an economic sector, nor as a policymaking partner. Moreover, the social-economic crisis caused by the COVID-19 emergency has severely impacted the non-food retail sector, alongwith unprecedented changes currently underway.
In this scenario, the sector has the potential to react effectively to current crises and generate significant social impacts.
Specialized Retail, being a connector between production and consumption, can play a fundamental role in the sustainable transition and in the promotion of Circular Economy models.
If Italy wants to keep growing, it must support consumption, since 60% of its Gross Domestic Product depends on it.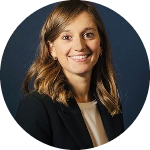 Benedetta Brioschi
Associate Partner and Head of Food&Retail and Sustainability Scenario
benedetta.brioschi@ambrosetti.eu