The aim of the 5.0 Retail Community
Involving the various players of the Specialized Retail sector, the key representatives of the benchmark countries, and the European institutions in a process of constructive, on-going discussion, with the goal of offering action proposals to Italy's Government and the nation's economy.
Documents from the 2nd Forum (December 2022)


Specialized Retail in Italy
The economic and social impact of the Specialized Retail sector on the country is much greater than what is perceived by the public and institutions, and it represents a vital asset for the nation's competitiveness.

450,6
billion euros in revenues

100,9
billion euros in value added

9,7
billion euros in investment
Despite these figures, the Specialized Retail is not recognized as an economic sector, nor as a policymaking partner. Moreover, the social-economic crisis caused by the COVID-19 emergency has severely impacted the non-food retail sector, alongwith unprecedented changes currently underway.
In this scenario, the sector has the potential to react effectively to current crises and generate significant social impacts.
Specialized Retail, being a connector between production and consumption, can play a fundamental role in the sustainable transition and in the promotion of Circular Economy models.
If Italy wants to keep growing, it must support consumption, since 60% of its Gross Domestic Product depends on it.





Listen to the #Genzy4Retail podcast
The project was launched within the 5.0 Retail Community and is part of the already consolidated podcast series of Genzy, created by The European House - Ambrosetti to talk about today and tomorrow's professions with the new generations and help them to make informed choices about their professional future. Genzy4Retail will tell genuine stories from young professionals who are currently employed in the specialized retail sector, with the support of the Community's members.
Archive: documents from the 1st edition (2021)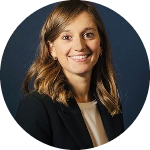 Benedetta Brioschi
Associate Partner and Head of Food&Retail and Sustainability Scenario
benedetta.brioschi@ambrosetti.eu