Permanent platform for monitoring the implementation of Italy's Recovery and Resilience Plan, focusing on weaknesses, strenghts, and impacts.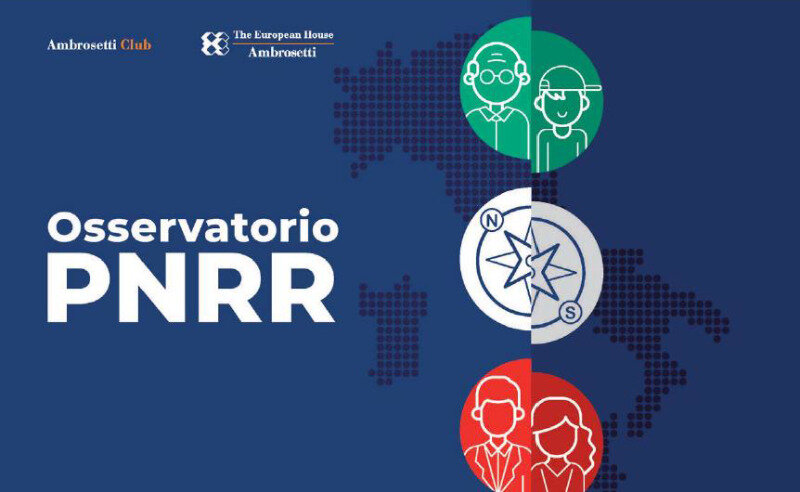 What is
PNRR?
PNRR is Italy's Recovery and Resilience Plan (Piano Nazionale di Ripresa e Resilienza), the national equivalent of the Next Generation EU programme, promoted by the EU across Europe: an unprecedented fiscal and industrial policy intervention at the national level, to restart the country after the emergency of Covid-19..
PNRR Observatory
A the beginning of 2021, an Observatory was created by The European House - Ambrosetti to discuss weaknesses and strenghts of the Plan, and estimate its impacts on Italy's economy. It is a permanent platform created in collaboration with Ambrosetti Club's business community.
The project's first output was presented in April 2021 at "The Outlook for the Economy and Finance" Workshop by The European House - Ambrosetti, with a second release in September of the same year, during the "Intelligence on the World, Europe and Italy" Forum at Villa d'Este (Cernobbio).
The monitoring efforts continued throughout 2022 with the objective of analysing the potential impacts of the PNRR on the country's economic growth, and its green and digital "twin" transition, but also to evaluate the implementation's advantages and risks.

During the 2023 Finance Workshop, we presented the preview of the latest release on the PNRR, "two years after its launch", whereas its full version was discussed and published at our 49th Forum in Cernobbio, on September 3, 2023.







Key questions
1. What are the major issues and critical areas that might affect the correct implementation of the PNRR? How can we resolve them?
2. Is the PNRR's governance efficient? Does it meet the needs of businesses?
3. Will the PNRR have a significant impact on the country's growth?
4. Will the PNRR boost the green and digital transition in Italy, contributing to reaching the Community's targets?
5. Does the PNRR offer solutions to fill the gaps between generations and territories, and to fight gender inequalities?
PNRR Observatory. Two years after its launch

13,4%
funds spent

204,372
submitted projects
waiting for PNRR funds

60%
projects administered
by Municipalities
with less than 5,000 inhabitants

1;2%
completed projects
Our CEO and Managing Partner, Valerio De Molli, presents the 2023 Report at the 49th Cernobbio Forum (September 3, 2023)