Documents from the past edition of the Tuscany Community platform, focused on the challenges for today's economic and productive system of the Tuscany Region.
Learn more about the Community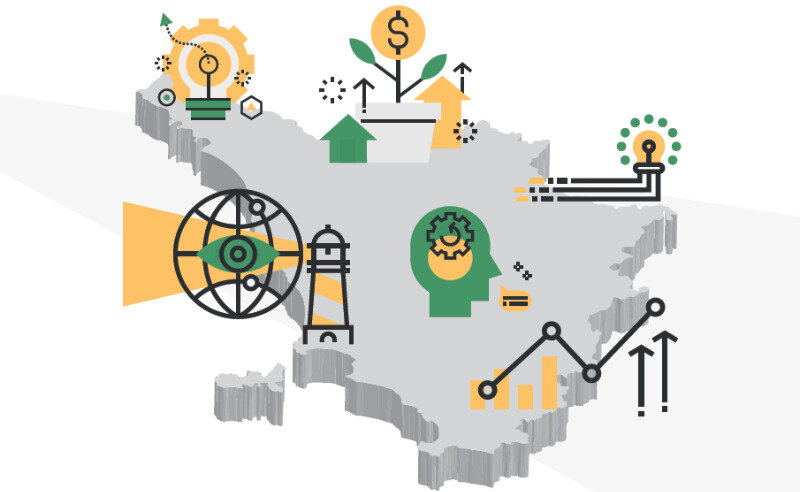 First edition's results
During the first edition, launched in 2022, we defined a strategic Tableau de Bord (with 33 Key Performance Indicators for Tuscany and other Italian Regions) to analyse strenghts and weaknesses that could affect the territory's growth.
On the basis of our analysis, we designed three action proposals for Tuscany's economy:
boosting innovation in companies
supporting companies in the processes of consolidation, digital transformation and internationalisation
creating synergies among the key sectors of the regional economy
Tuscany Community in 2022
The Community defined an area of intervention related to Tuscany's 4 key economic sectors: agri-food, energy and energy-intensive industries, e-Mobility and sharing economy, fashion. The action proposals were presented through a Roadshow that took place over a few months.
Agri-food and agri-tech sector: during the annual Assembly of Invest in Tuscany (December 15, 2021, at the Palazzo Guadagni Strozzi Sacrati in Florence) and a thematic Workshop at Palazzo Borghese in Florence (July 6, 2022)
Energy and sustainable transition (March 29, 2022, at the Museo del Cenacolo di Sant'Apollonia in Florence)
e-Mobility and sharing economy (April 14, 2022, at Palazzo Medici Riccardi in Florence)
Fashion sector (June 21, 2022, at the Istituto Polimoda in Florence)
At the Final Forum of the Community we presented the results of our analises and discussion with the local business community. It took place on July 6, 2022 at Palazzo Borghese in Florence under the title "La Toscana di fronte alle sfide del rilancio del sistema produttivo" ("Tuscany Community. The revamping of Tuscany's production system).
The first edition of the Tuscany Community was organised in collaboration with Invest in Tuscany and Regione Toscana, with the support of Baker Hughes, Eko Agro Group, Ineos Inovyn, Körber, Gruppo Florence and Sofidel (Main Partners), and of ABB Mobility, Business Strategies and Kering (Partners).