7th edition
Building a Community of Leaders to strengthen and consolidate bilateral relations within a European framework.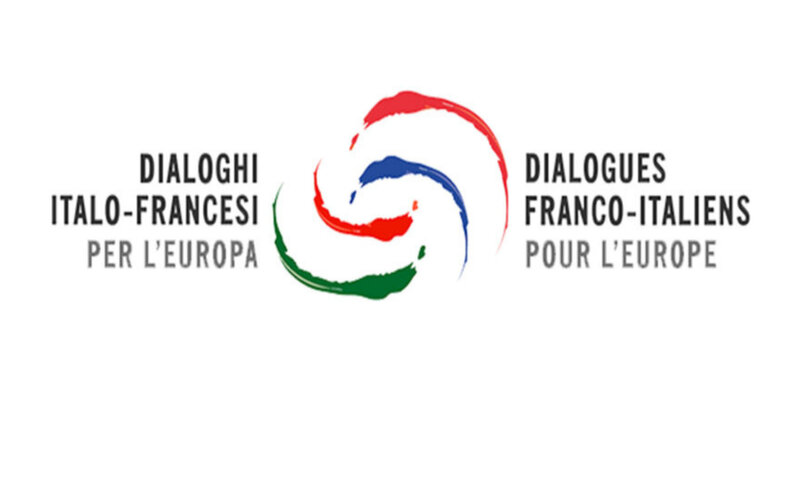 The Annual Forum: 2024 edition
Italy and France: together to face the great European challenges


The annual event of the 7th edition of the Italian French Dialogues for Europe will take place on June 11-12, 2024, in Paris at Sciences Po.
To participate and for more information please write to: dialoghiitalofrancesi@ambrosetti.eu
Documents from the Annual Forum, June 13, 2023


For a stronger, more democratic, united and sovereign Europe
Concluding a journey that began in 2017, French President Emmanuel Macron and former Italian Prime Minister Mario Draghi signed the "Treaty between the Republic of Italy and the Republic of France for enhanced bilateral cooperation," the so-called "Quirinal Treaty," on November 26th, 2021, in the presence of President of the Italian Republic Sergio Mattarella and the six drafters of the text.
This significant moment for cooperation between Italy and France opened a new season for bilateral relations and will enable them to face together the challenges of the coming years within the framework of the European project. Within such contexts, the Italian-French Dialogues for Europe were mentioned in the "Italian-French Roadmap" document, annexed to the Treaty, precisely for the role they assume in favor of promoting the debate on European public policies and their social sharing. The year 2023 marks the second year in which the Dialogues for Europe have dedicated their edition to the concept "for a stronger, more democratic, united and sovereign Europe" precisely to further stimulate bilateral relations in favor of the stability and growth of a more equal Europe.


How the Italian-French Dialogues for Europe came about
In 2018, LUISS University in Rome and Sciences Po in Paris, in collaboration with The European House - Ambrosetti, launched the "Italian-French Dialogue for Europe". Its goal is to bring together on a regular basis French and Italian leaders to discuss, in a private and open environment, priority issues for business and the economy, and, more generally, the future of Europe and the younger generations by outlining strategies and proposals to further strengthen relations between the two countries.
The initiative has the patronage of the Italian Embassy to the French Republic and the French Embassy to the Italian Republic.
Considering the current geopolitical and economic context, today more than ever it is necessary to strengthen bilateral ties from a European perspective, promoting mutual growth and also acting as a model and source of inspiration, especially for young people. Indeed, the project of the Italian-French Dialogues for Europe Junior, created by two student associations, was born precisely to facilitate and encourage access to culture and stimulate, through support, young artists.


Italy and France are each other's second economic and trade partners
Italy and France are linked not only by geographical proximity but also by a mutual and deep friendship, reflected in a shared vision of issues related to European integration, peace and solidarity, and other common values. Founding members of the ECSC and signatories of the Treaties of Rome in 1957, they are the pivot around which the European Union has become a reality.
Economic relations between Italy and France are nurtured by trade and investment flows that are based on large companies and a dynamic network of small and medium-sized Italian, French and bi-national companies leading to a trade interchange that amounts to 111.2 billion euros (Source: Bank of Italy, Istat, Banque de France, MAECI Economic Observatory, 2023). Italy and France also have common goals in terms of industrial cooperation in strategic sectors, with a focus on artificial intelligence, as part of an overall effort toward digital and green transition.
The economic and trade interdependence between the two countries makes it necessary to create a permanent platform for dialogue to enhance mutual knowledge and understanding. The Dialogues aim to promote exchanges between public institutions and businesses in order to further strengthen economic, academic and cultural relations between the two countries.
The project involves:
An exclusive annual event;
Closed-door business and exchange meetings throughout the year
Digital and/or phygital events on topics of interest aimed at enhancing bilateral relations
An Advisory Board composed of researchers, business leaders and advisors from the two countries. Its task is to identify relevant and innovative topics to be addressed, with the aim of strengthening political, economic, strategic and research ties between Italy and France
A Scientific Committee composed of an equal number of Italian and French personalities from the institutional, academic, entrepreneurial and professional world. Its task is to elaborate the lines of content of the Italian-French Dialogues
A program of scholarships and research grants and the creation of an Italian-French chair based alternately in the two universities with the objective of developing research on the topics of the Dialogues.
President of the Scientific Committee
Marc Lazar, Emeritus Professor, Sciences Po;

Head of the BNL-BNP Paribas Chair "Franco-Italian relations in Europe", Luiss
Members of the Scientific Committee
Giuliano Amato, President Emeritus, Constitutional Court
Sergio Fabbrini, Luiss Political Science Department Director
Franco Bassanini, President, Astrid Foundation
Claudia Ferrazzi, Founder and President, Viarte; former Consultant for Culture and Communication, Presidency of the French Republic
Luigi Gubitosi, President, Luiss
Alain Le Roy, Former French Ambassador to Italy
Erkki Maillard, Government and International Affairs Director, EDF Board Member
Fabrizio Pagani, Global Head of Economics & Capital Market Strategy Muzinich & Co
Xavier Ragot, President of the French Observatory of Economic Conjunctures (OFCE)

Initiatives for Italian and French students
The BNP Paribas Chair
A professorship in "French and Italian Relations in Europe," funded by BNP Paribas and assigned to Prof. Marc Lazar with the collaboration of Prof. Alessandra Necci, was created at the end of 2022. The chair was established at LUISS with the prospect of speculatively starting teaching at Sciences Po as part of a Double Degree in Politics, Philosophy, and Economics. The goal is to foster the dissemination of knowledge in the field of European international relations through studies, research and sharing initiatives.
ITS Lombarda Meccatronica

In 2023, The European House - Ambrosetti will support the ITS Lombarda Meccatronica project, which involves the exchange of students between ITS (Higher Technical Institutes - Italy) and BTS (Higher Technical Certificate - France). This international exchange program allows students to apply skills in a European dimension, teachers to align skills cross-culturally and acquire experiential teaching practices, and organizations to establish a stable Italian-French partnership for professional training exchange.
Previous editions of the Dialogues